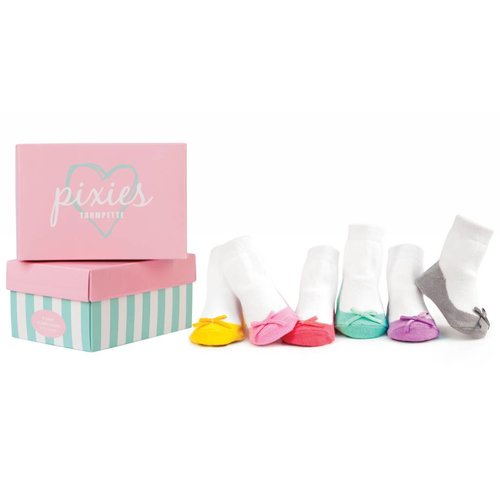 TRUMPETTE
Trumpette Pixies 6pk socks baby
Cotton rich socks are comfortable for your baby to wear all day
Socks also contain small amounts of nylon and spandex
Slip resistant material ("Trumpette") on sock's bottom helps give baby's feet traction
Mom approved - with soft elastic tops, Trumpett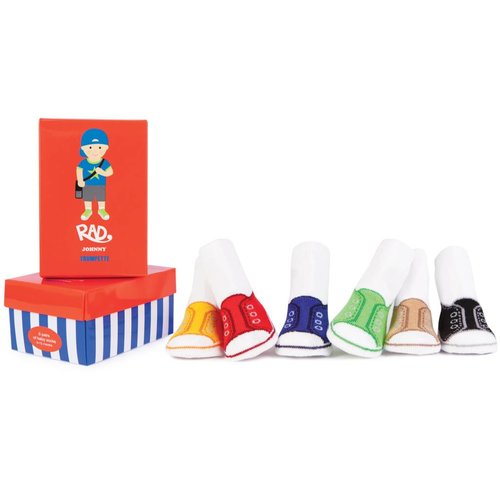 TRUMPETTE
Trumpette Rad 6 pk socks baby
Cotton rich socks are comfortable for your baby to wear all day
Socks also contain small amounts of nylon and spandex
Slip resistant material ("Trumpette") on sock's bottom helps give baby's feet traction
Mom approved - with soft elastic tops, Trumpett
TRUMPETTE
Trumpette Johnny's 6 pack socks baby
Cotton rich socks are comfortable for your baby to wear all day
Socks also contain small amounts of nylon and spandex
Slip resistant material ("Trumpette") on sock's bottom helps give baby's feet traction
Mom approved - with soft elastic tops, Trumpett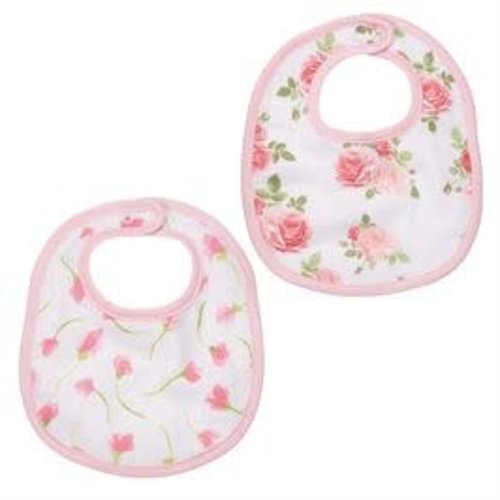 MUDPIE
Muslin Bella Baby Bibs Set
In a lightweight, breathable muslin finish, this set of two styled bibs feature printed pink garden rose pattern prints, jersey binding, and snap ring closures. Made out of cotton muslin. pre-washed for a soft feel.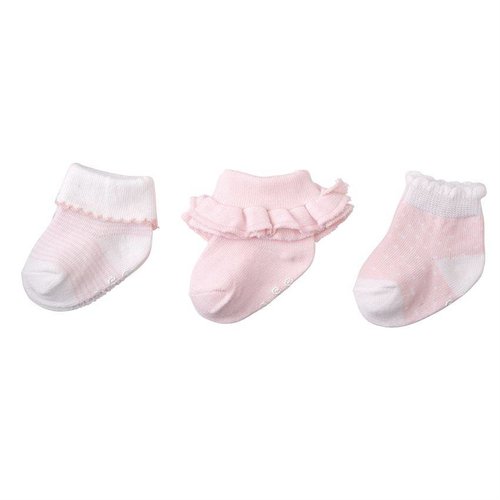 MUDPIE
Pink Layette Sock Set
Set of three Newborn cotton hosiery socks feature picot stitch, ruffle or popcorn trim detail. The perfect touch to your little one's already darling outfit! Your purchase supports March of Dimes: 10¢ donation per soft headband and sock purchase.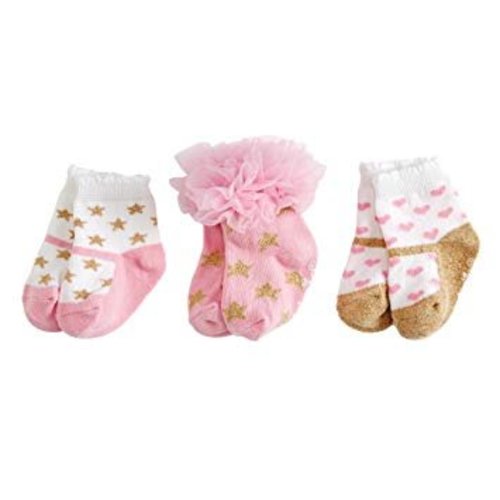 MUDPIE
Princess Sock Set
Set of 3 pairs of printed cotton hosiery socks feature glitter accents and arrive gift boxed.
Size: 0-12 months.
From Mud Pie's Baby Princess Collection.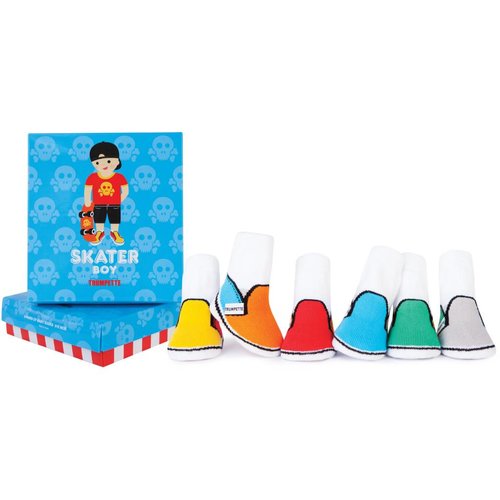 TRUMPETTE
Trumpette Skater Boy 6pk socks baby
Cotton rich socks are comfortable for your baby to wear all day
Socks also contain small amounts of nylon and spandex
Slip resistant material ("Trumpette") on sock's bottom helps give baby's feet traction
Mom approved - with soft elastic tops, Trumpett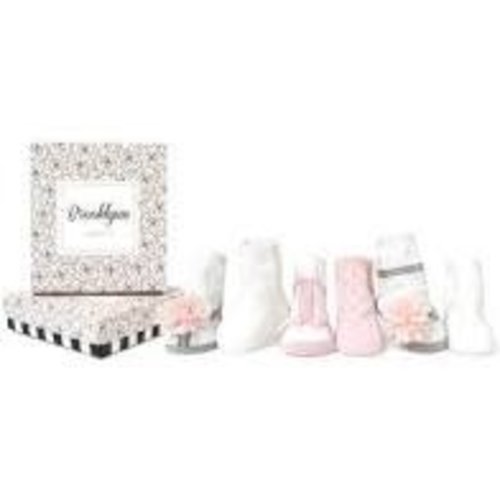 TRUMPETTE
Trumpette Brooklyn Assorted baby socks
Feel fun and fabulous! Our six pack of Brooklynn socks comes with three pairs of embellished sandal designs and three different pointelle socks to make your little one looking her best! These socks come packaged in a fun gift box.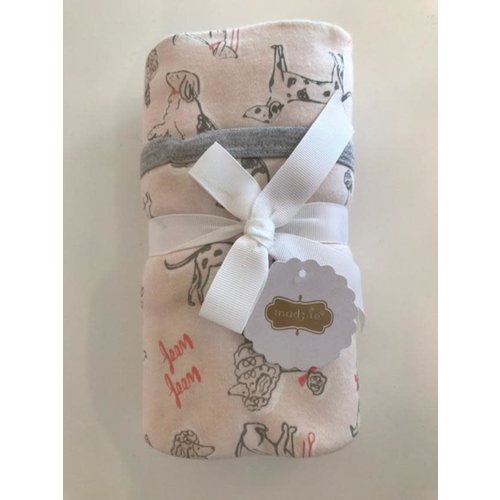 MUDPIE
Mud Pie Girl Puppy Receiving Blanket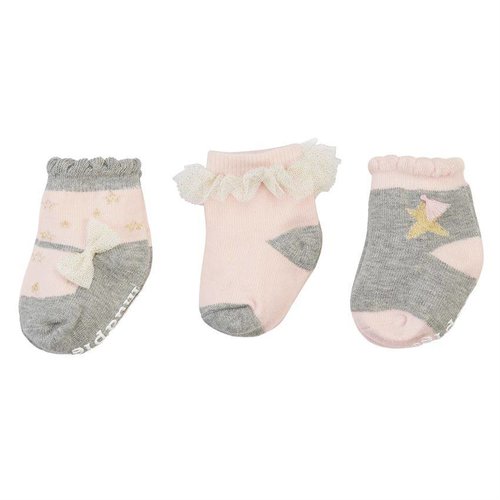 MUDPIE
Dream In Glitter Sock Set
From her head to her toes, keep your pretty princess in style with this set of three cotton knit socks set, complete with scalloped popcorn trim, gold lurex star accents, and foiled mesh details.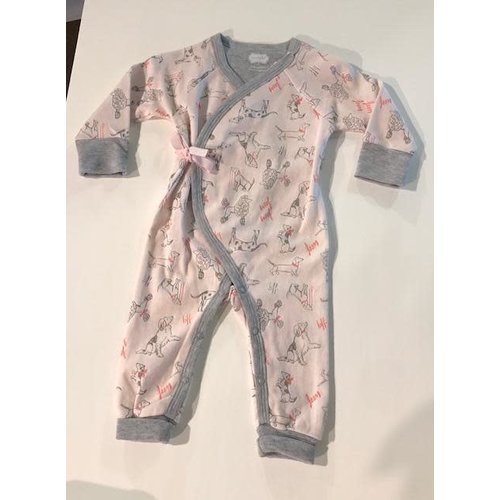 MUDPIE
Girl Puppy Kimono
This cotton interlock kimono style sleeper features all-over Mud Pie original puppy print, heathered gray contrast binding, picot stitch detail and inner leg snap closure.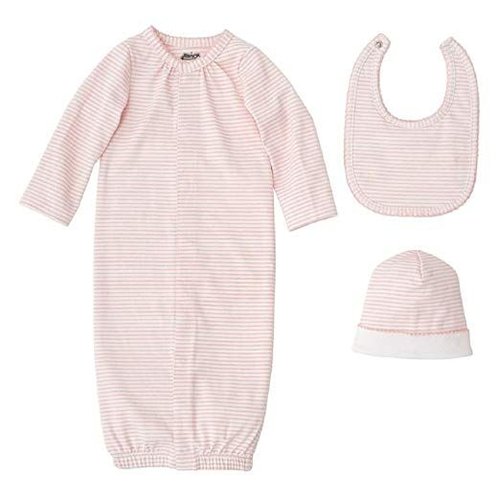 MUDPIE
Mud Pie Pink Layette Gift Set
PINK LAYETTE GIFT SET