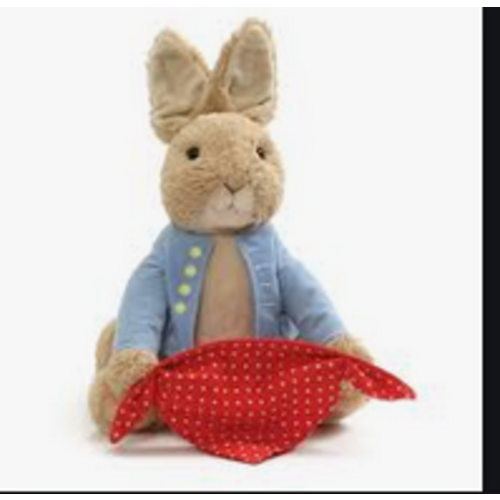 GUND
Animated Peek a boo Peter Rabbit
Peter speaks & raises his arms for an interactive game of peek-a-boo. A handkerchief provides extra tactile sensation for baby. 3 AA batteries included.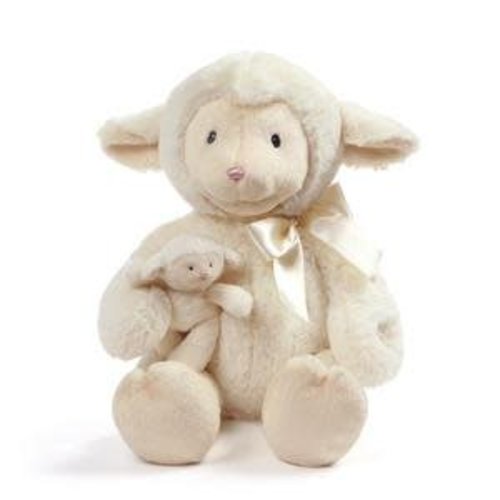 GUND
Animated Nursery Time Lamb
Recites one of six different phrases while animated arms and mouth recreate peek-a-boo game
Satin-accented blanket provides additional tactile sensation for baby
Surface-washable
Ages 0+
11.5 inch height (29 cm)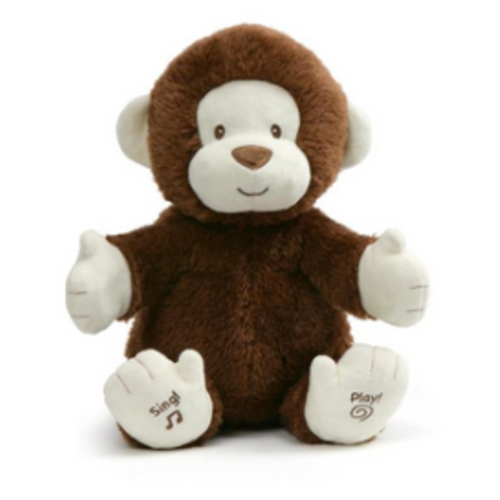 GUND
Animated Clappy the Monkey
Clappy will entertain your little one!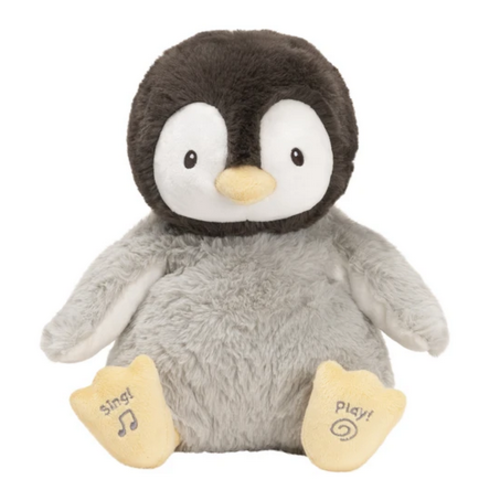 GUND
Gund Animated Kissy the Penguin
Animated Kissy the Penguin, blows kisses!!!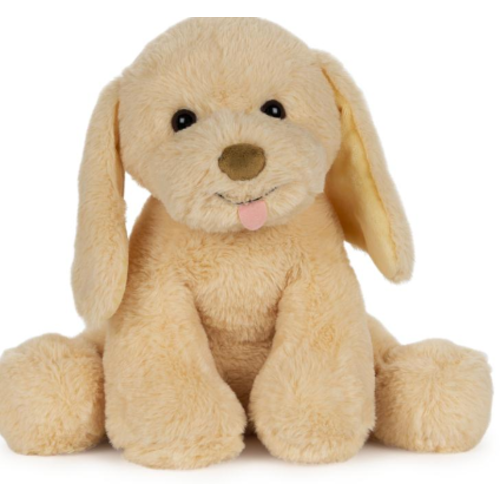 GUND
Gund My Pet Puddles
Give Puddles a pat to feel him come alive in your arms with head and tail movements and soft yips that activate at the gentle touch of his super-soft plush. Tap his nose for an extra cute surprise!
GUND
My First Purse Playset
Colorful pink plush purse with touch and close fasteners for secure storage
Five-piece playset includes: purse, a compact with a mirror, a crinkling credit card, crinkling keys, and a plush cell phone sound toy
Embroidered details for safety
Surface-wa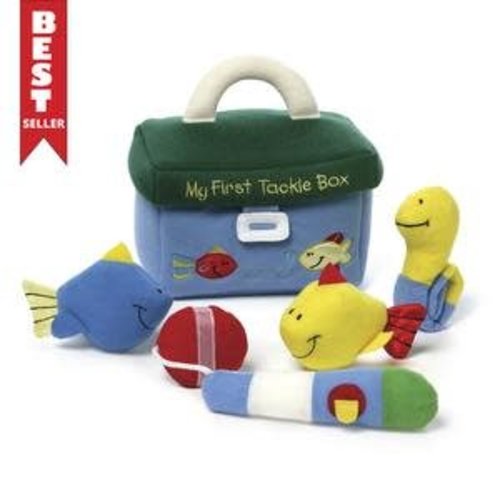 GUND
My 1st Tackle Playset
Colorful, embroidered tackle box complete with touch and close fasteners for secure storage
Five-piece playset includes: tackle box, a rod with touch and close fastener for sticking to fish, a worm crinkle toy, a squeak toy fish, and a sound
Surface-was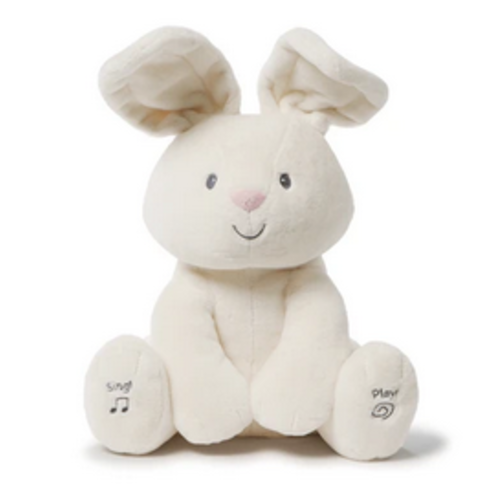 GUND
Animated Flora
Hello, baby! Peek-a-boo is most fun with you! Flora the Bunny is an adorable singing animated plush with two different play modes. Press the left foot to play an interactive game of peek-a-boo, and the right to hear the song Do Your Ears Hang Low in a cut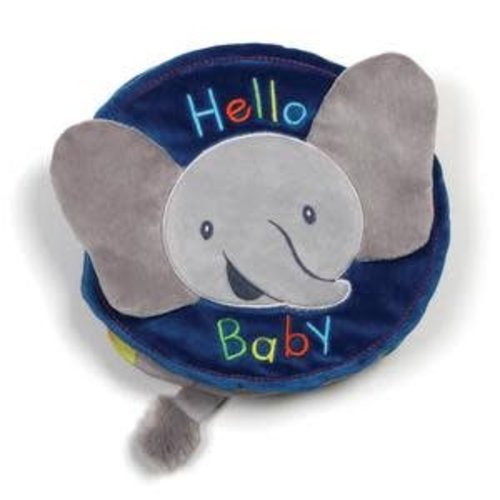 GUND
Flappy Soft Book
Article code
028399108824
Flappy Soft Book activity book encourages sensory stimulating playtime
Features crinkle, ribbon for tactile play, and super soft plush pages; clear carrying case included
Embroidered details ensure safe use for all ages
Machine-washable; appropriate fo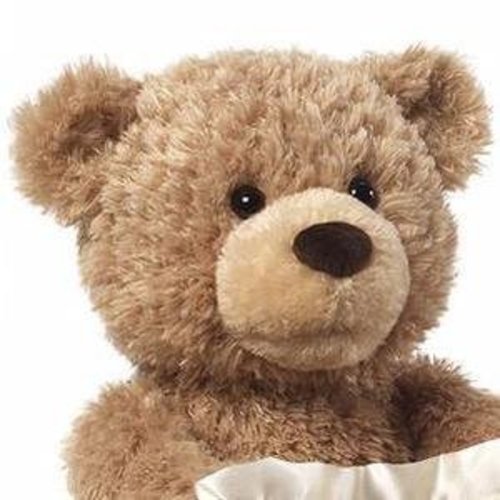 GUND
Animated Peek-A-Boo Bear Natural
Recites one of six different phrases while animated arms and mouth recreate peek-a-boo game
Satin-accented blanket provides additional tactile sensation for baby
Surface-washable
Ages 0+
11.5 inch height (29 cm)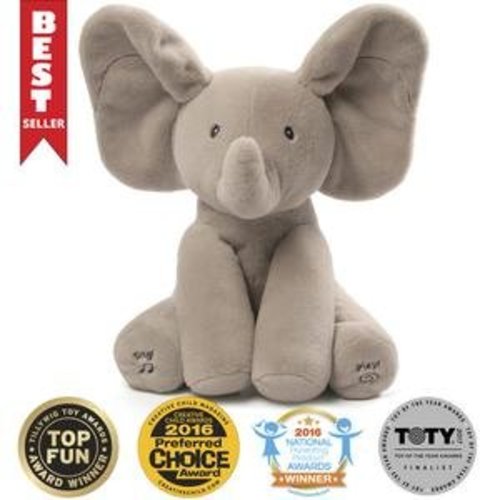 GUND
Animated Flappy Elephant
Flappy Elephant animated plush plays peek-a-boo and sings Do Your Ears Hang Low
Ears flap during play to delight baby
Made from high-quality, huggable plush material
Surface-washable; ages 0+; three AA batteries included with purchase
12 inch height (